You are currently browsing the monthly archive for April 2012.
I've been feeling a little bit obsessed lately with planning how to decorate the nursery.  I've been saving all of my inspiration images to my Pinterest page, but I wanted to write up a blog post as well since this way I get to really describe it all.  Did I mention I'm supposed to be writing a research paper right now?
The following image from here is my favorite in terms of colors to use in the nursery.  I just love that shade of green.  So I'm thinking I'd like to have a mainly white/neutral colored room with this pale green as an accent color, and possibly some pale pink as well.
Here is an inspiration image from Pottery Barn Kids that shows the neutral look I like.  We have a dark wood crib like this, and I think it looks nice in the neutral room with other white furniture.  The white slip-covered chair looks lovely as well, and I am planning to have a white chair as well, which I will describe in a bit.
Here's another example of a pretty neutral colored nursery with a white slip-covered chair.  This one's from Restoration Hardware.  Again, our crib is brown wood… but I could always paint it white if I felt like I really needed to.  But I like dark wood, so I'll probably keep it like it is.  This one also illustrates how pretty it looks with all white furniture in the room.  Very calm and sweet and lovely I think.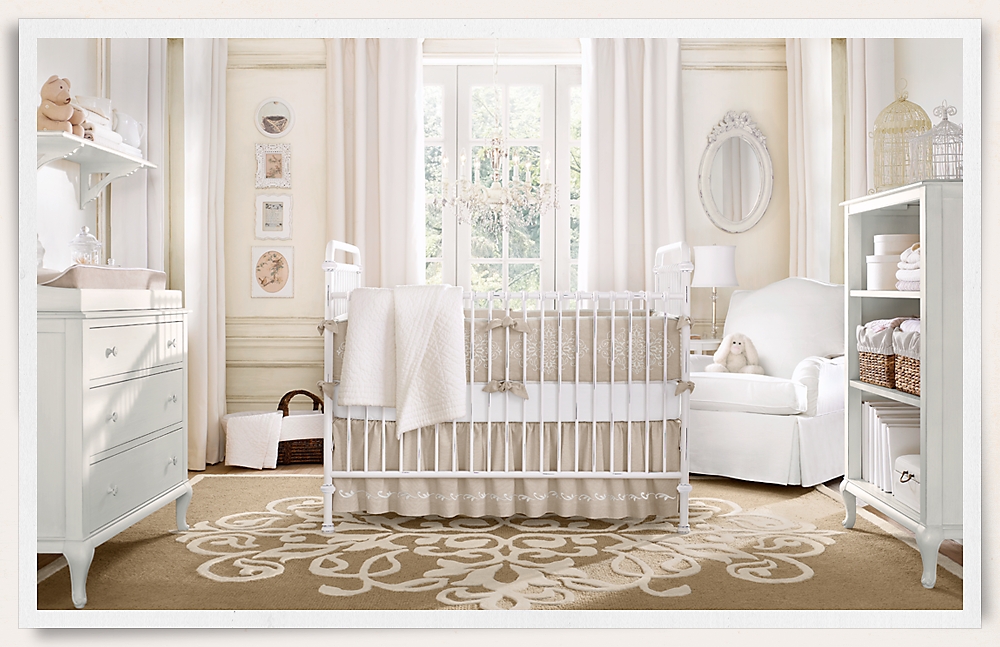 The next picture shows some curtains that I like – goes with the green accent color idea.  And also shows some white built-ins that I'd like to possibly do as well.  This picture is from a blog, Centsational Girl, and those are her notes about painting the back of the cabinets and chairs – not mine.
Now, speaking of built-ins, those in the picture above were created using Ikea bookcases, and attaching them to the walls and adding trim and molding to make them look like built-ins.  I love that idea!  So, what I would like to do is to create some sort of similar built-in look on either side of the window with a DIY built-in window seat in between them, sort of like this, which I found here:
Isn't that just lovely?  And functional!  Fun seating plus lots of storage!
And, people have used Ikea furniture to create window seats, too!  Here's someone who made a DIY window seat using a cheap Ikea shelving unit, turned on its side, and created a cushion to go on top:
Pretty cute and simple!  Ikea sells inserts for this that you can use to change the box openings into cabinets with doors or double drawers.
And here's one more example of someone who used a slightly different set of Ikea shelves for the same idea, except they also added legs to theirs:
I am considering painting my barrister bookshelves white and putting them in the nursery, although if we did the built-ins on either side of the window, then that would be shelving over-kill.  So in that case I might still paint them white but put them in the sunroom or office or something instead… or maybe even the dining room, and put glasses and stuff in them?  Possibilities…  Anyway, wouldn't they look pretty painted white?  Here's a picture of some similar to mine, found here:
I also would like to do some closet organization system as well, to make it more functional.  Functional closets are great.  
Here
's an inspiration image that I like a lot.  This closet just looks so neat and organized, which is what I like.  Plus this has the dark wood crib again, and it looks lovely.
And here's one more nicely organized closet:
Of course it helps to have all your clothes in the same colors!  Ha!  But still, even with multi-colored clothes, I can see how this could be great.  I could have labeled bins with clothes for all different size ranges to keep them organized.
And, finally, the white slip-covered chair!  My mom has a brown corduroy chair that I really not pretty at all.  It's a big comfy easy chair that rocks and swivels, and has a matching foot stool, but it is ugly.  (Brown corduroy).  BUT, I came up with the idea of re-covering it!  We've had this chair in our family as long as I can remember, and it's always been sooooo comfortable, so I asked my mom if I could have it, and she said yes!  So I plan to create a white slip-cover for the chair and ottoman, and put it in the nursery.  Plus if it's slip-covered then hopefully I can just take the cover off and throw it in the laundry if it gets dirty!
I found some tutorials online about how to slip cover chairs, and it doesn't look too hard.  
Here
's a picture of one that is sort of similar to how mine would look:
And,
here
's a tutorial I found on how to do it, and they used an inexpensive painter's drop cloth!  What a neat idea!  Here's a picture of the chair that they slip-covered using the painter's drop cloth:
Pretty fantastic, huh?
I don't think I'd bother trying to make pleats.  I think I'd like to keep it simple, and that seems complicated.  But I'm excited about doing this!
So that's my plans for the nursery right now.  One other thing I'm loving is this super fluffy flokati rug from
Ikea
.  So soft!  Would be nice in the center of the room.  The picture of it doesn't look very pretty, but just imagine the lush softness under your feet!
Well, that's it for now.  We just need to get this house so I can start decorating!!
Well, I think we have found our dream house.  We LOVE it.  It's a fantastic house.  Bryan and I agreed it's the most awesome house we've seen in the entire year that we've been looking at houses – and it's IN OUR PRICE RANGE, which is a miracle.
BUT.  The reason it's in our price range is because it's a short sale.  Meaning, a potentially long, difficult, and stressful sale that may take a long time, and we may not know for a long time if the bank will accept our offer, even though we offered the asking price.
So we can use all the good thoughts, prayers, and positive vibes toward us getting this house, as soon as possible preferably.
The house is everything we wanted.  It's in Fuquay-Varina, but seeing this house makes me not care about living way out in the country.  It's beautiful.  I really hope we get it.
So, there you have it!  The longest post with the most pictures EVER!  We love this house.  I can't imagine a better house.  Our agent submitted our offer today, so now we wait…  I really hope we hear something soon.  But with short sales, you just never know.  I've heard they can take a long time, so Bryan and I are prepared to put most of the rest of our stuff into a storage unit, and rent a 2-bedroom apartment month-to-month while we wait.  But I hope a miracle happens, and the bank accepts our offer, and some how we can close in a month, and we won't have to do that.
We had our 18 1/2 week ultrasound this morning, and found out we are having a girl 🙂
Here is the progression of ultrasound pictures we've gotten.
At 8 1/2 weeks we got the first ultrasound to basically confirm that I was indeed pregnant:
Then at 12 weeks we had another ultrasound done because they hadn't been able to detect a heartbeat with the doppler and they wanted to be sure everything was OK.  And everything was ok!
Here's a little illustration of how the baby is sort of looking at those stages – this shows what a baby looks like around 5 weeks, 8 weeks, and 13 weeks:
So then today we had our (probably last) ultrasound where they make sure everything is developing normally – they could see the heart beating and the spinal cord was developed, and the brain was developing.  She said our baby is about 10 inches long now, if stretched from head to toes!  Here's an illustration of 18 weeks along:
We were able to see a profile of the baby:
And here she is waving her hand at us (we were able to count 5 fingers!):
And we could see her feet moving around, here's a shot of a foot:
So they said she looks good!  Everything looks good.  And I'm happy to find out it's a girl!  So now we can start thinking about names!
Here we are outside of the birth center, documenting this occasion:
And a profile shot.  Some days I look more pregnant than others, and today seems to be one of the less-pregnant looking days.  At least so far… usually by the end of the day my stomach seems to be bigger than it is in the mornings.
These are my new maternity jeans from Old Navy, and I really like them!  They are SO much more comfortable for me than the first pair I had.  The first pair had a stretchy panel that came up over my whole stomach, and it just made me feel so sick having that pressure of fabric pressing on my stomach all the time!  So these jeans just come up to the normal height, and they have a stretchy elastic waistband, which feels so much better.  Yay!
And a big YAY for getting to buy little girl clothes now!!!!!! 😀
First off, here's how I'm looking today at 18 1/2 weeks.  I don't look too big, I think because my shirt was puffy so it didn't show much:
Today I looked at another house.  This house is a definite possibility.  The main drawback of this house is its location.  It's in the heart of Fuquay-Varina!  Way further out in the country than we had ever wanted to go.  Not that it's in the country – it's in the town of Fuquay.  But it's far away from Raleigh.  It's about 25 minutes from Cary.  About 10 minutes further away from civilization-as-we've-known-it than Holly Springs is.
On the other hand, the house is about 5 minutes from where I'm probably going to be working once I graduate.  It's the town where Talan goes to school.  It's also very close to Wake Tech (about 15 minutes) where Bryan is going to be teaching a couple of classes this summer and fall and probably after that, too, and there's a good chance I might do my internship there next Spring.
The biggest factor involved here is price though: this house is affordable, and it is within our acceptable price range, whereas the house that was next to the playground is asking $20,000 more than this one, which puts it $20k outside of our price range, and therefore even if we liked that house better, we probably couldn't afford it.
So here is the house!
So there you have it.
What do you think?  Bryan and I are undecided.  The house is big.  We can afford it.  It has a lot of potential to be fixed up really nice with re-painting, new carpet and new flooring, better furnishings obviously, and lots of landscaping in the yard.
Our main hesitation is the location in Fuquay-Varina which is just so foreign to where we've been living in Raleigh.  Sooooo different.  It would be culture shock for sure.
We went and looked at another house today.  We had planned to look at two houses today, but the first one apparently just went under contract and so they withdrew it from showings this morning.  So, we just looked at this one.  And unfortunately it's not really going to work out for us.  But here it is anyway:
I mean, I guess there's always the possibility of investing in more storage furniture pieces – shelving, dressers, etc.  But just for re-sale alone, the extreme lack of closet space in this house is a big concern to me, and pretty much makes it NOT an option at all.
The downstairs is nice enough.  But the small bedrooms with little to no closet space just really does me in.  Why would someone even build a house with so little closet space?!  Bizarre.
I am really hoping and praying that the right house for us is going to come on the market any day now.  Like, maybe Tuesday night it will come on the market, we can go look at it Wednesday, and make an offer that day.  That would be ideal.  Because our agent is out of town for a funeral this weekend in Seattle, and is going to get back in town on Tuesday.  And it would be really tricky to write an offer without her here!
So what I'd like to see happen is this: our perfect house gets listed on Tuesday evening.  It's a fantastic price.  We look on Wednesday and snatch it up before anyone else gets a chance.