I've been feeling a little bit obsessed lately with planning how to decorate the nursery.  I've been saving all of my inspiration images to my Pinterest page, but I wanted to write up a blog post as well since this way I get to really describe it all.  Did I mention I'm supposed to be writing a research paper right now?
The following image from here is my favorite in terms of colors to use in the nursery.  I just love that shade of green.  So I'm thinking I'd like to have a mainly white/neutral colored room with this pale green as an accent color, and possibly some pale pink as well.
Here is an inspiration image from Pottery Barn Kids that shows the neutral look I like.  We have a dark wood crib like this, and I think it looks nice in the neutral room with other white furniture.  The white slip-covered chair looks lovely as well, and I am planning to have a white chair as well, which I will describe in a bit.
Here's another example of a pretty neutral colored nursery with a white slip-covered chair.  This one's from Restoration Hardware.  Again, our crib is brown wood… but I could always paint it white if I felt like I really needed to.  But I like dark wood, so I'll probably keep it like it is.  This one also illustrates how pretty it looks with all white furniture in the room.  Very calm and sweet and lovely I think.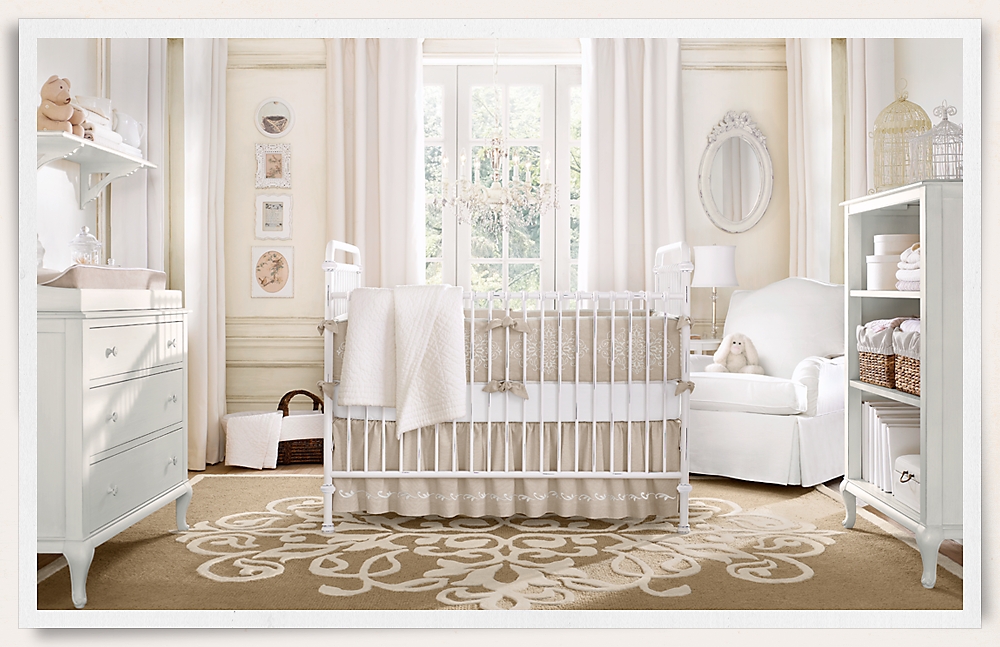 The next picture shows some curtains that I like – goes with the green accent color idea.  And also shows some white built-ins that I'd like to possibly do as well.  This picture is from a blog, Centsational Girl, and those are her notes about painting the back of the cabinets and chairs – not mine.
Now, speaking of built-ins, those in the picture above were created using Ikea bookcases, and attaching them to the walls and adding trim and molding to make them look like built-ins.  I love that idea!  So, what I would like to do is to create some sort of similar built-in look on either side of the window with a DIY built-in window seat in between them, sort of like this, which I found here:
Isn't that just lovely?  And functional!  Fun seating plus lots of storage!
And, people have used Ikea furniture to create window seats, too!  Here's someone who made a DIY window seat using a cheap Ikea shelving unit, turned on its side, and created a cushion to go on top:
Pretty cute and simple!  Ikea sells inserts for this that you can use to change the box openings into cabinets with doors or double drawers.
And here's one more example of someone who used a slightly different set of Ikea shelves for the same idea, except they also added legs to theirs:
I am considering painting my barrister bookshelves white and putting them in the nursery, although if we did the built-ins on either side of the window, then that would be shelving over-kill.  So in that case I might still paint them white but put them in the sunroom or office or something instead… or maybe even the dining room, and put glasses and stuff in them?  Possibilities…  Anyway, wouldn't they look pretty painted white?  Here's a picture of some similar to mine, found here:
I also would like to do some closet organization system as well, to make it more functional.  Functional closets are great.  
Here
's an inspiration image that I like a lot.  This closet just looks so neat and organized, which is what I like.  Plus this has the dark wood crib again, and it looks lovely.
And here's one more nicely organized closet:
Of course it helps to have all your clothes in the same colors!  Ha!  But still, even with multi-colored clothes, I can see how this could be great.  I could have labeled bins with clothes for all different size ranges to keep them organized.
And, finally, the white slip-covered chair!  My mom has a brown corduroy chair that I really not pretty at all.  It's a big comfy easy chair that rocks and swivels, and has a matching foot stool, but it is ugly.  (Brown corduroy).  BUT, I came up with the idea of re-covering it!  We've had this chair in our family as long as I can remember, and it's always been sooooo comfortable, so I asked my mom if I could have it, and she said yes!  So I plan to create a white slip-cover for the chair and ottoman, and put it in the nursery.  Plus if it's slip-covered then hopefully I can just take the cover off and throw it in the laundry if it gets dirty!
I found some tutorials online about how to slip cover chairs, and it doesn't look too hard.  
Here
's a picture of one that is sort of similar to how mine would look:
And,
here
's a tutorial I found on how to do it, and they used an inexpensive painter's drop cloth!  What a neat idea!  Here's a picture of the chair that they slip-covered using the painter's drop cloth:
Pretty fantastic, huh?
I don't think I'd bother trying to make pleats.  I think I'd like to keep it simple, and that seems complicated.  But I'm excited about doing this!
So that's my plans for the nursery right now.  One other thing I'm loving is this super fluffy flokati rug from
Ikea
.  So soft!  Would be nice in the center of the room.  The picture of it doesn't look very pretty, but just imagine the lush softness under your feet!
Well, that's it for now.  We just need to get this house so I can start decorating!!